cPanel was first released in 1996. It had a lot of legacy users. The newest versions of cPanel are a combination of cPanel and WHM ( Web Host Manager) interfaces, where cPanel is for customer account management, and the latter is for server administration.
Plesk released a little bit later on 2001. It was a response to the Linux-only cPanel and became the primary control panel to be used on Windows-based servers (though it has versions for Linux as well).
User Interfaces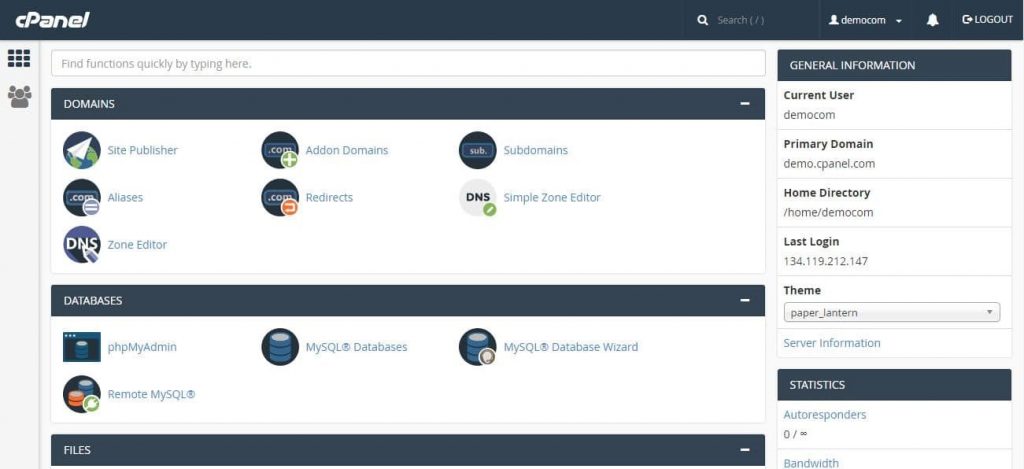 If it's your first time interacting with a hosting control panel, the cPanel dashboard seems a little easier to use. While a lot of parts are open, they are labelled very clearly and every part of the panel is easy to get to.
In simple words, when using cPanel, you can navigate easily to go somewhere you need.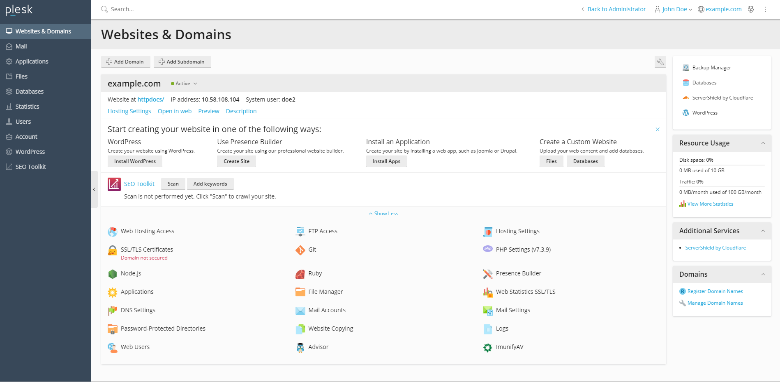 While, Plesk dashboard uses a slightly different model and arranges it features on the basis of the individual sites you host on your setup. Then, it only show the settings and configurations specific to each location.
As an example, if you want to add a new email account to a domain name:
in cPanel, you first go to Email and then select the domain that you want to assign the new email account to
in Plesk, you first select the domain and then get to decide what you want to do with it – in this case, assign a new email.
Basically, cPanel focus on features, whereas Plesk focus on domains / hosted sites first.
Support
cPanel
You can raise support tickets on cPanel Support.
Customer service are available for (Central Standard Time) Mon-Fri 6 AM – 6 PM; Sat-Sun 6 AM – 4 PM
You have to pay $65 for each emergency support you get for one incident.
Plesk
Plesk Support is available 24/7 for free.
You can still ask questions on their official forum or social media channels even if you are not a customer.
Features and Tools
cPanel
Install cPanel & WHM in less than 1 minute
One-Click HTTPS Redirection of Websites
Build Node.js Applications
Imunify360 is added to Security Advisor
SpamBox is available on new cPanel accounts by default
Plesk
WordPress secured with one-click
Plesk fits for both Linux and Windows.
Get Docker Support with more than 200,000 Docker images on Linux
Plesk can be started from within the control panel for the web hosting.
Compatible with Git, but Gitman extension is needed.
Security
cPanel
Automatic installation of SSL certificated is offered.
Offers famous security extension such as IP address denials, and password protected directories.
Machine and customers are protected by cPanel Security.
Main Features:
Blacklist or whitelist single IPs or whole regions and countries
Deploy SSL certificates to websites over your server network
Encrypt all outbound messages
Offer customer multi-factor authentication
Allows easy integration by third party.
Plesk
Immunity 360, Fail2ban intrusion prevention, and active directory integration are some of the security extensions supported by Plesk control panel.
Security extensions available for both free and paid versions.
Main Features:
Security patches will be available within 24 hours.
You can configure the DNS and DNSSEC to protect your domains.
It provides either Let's Encrypt, or Symantec SSL.
Automated healing and recovery functions to address technological issues without the need for professional help.
Switch on SSL and HTTP/2 by one click with Plesk Security Advisor for all of your websites.
Operating System
Plesk is compatible with both Linux and Windows servers, but cPanel only operates with Linux servers.
cPanel
It can be run on following OS:-
CentOS
CloudLinux
Red Hat Enterprise Linux
Amazon Linux
Plesk
It can be run on multiple OS and is a cross-platform program:-
Debian
Ubuntu
CentOS
RHELLet's see how the backup support differs in Plesk vs. cPanel:
Cloud Linux
Amazon Linux
Virtuozzo Linux
Windows Server 2008 R2 SP
Although, you would have to buy a specific Plesk option for the OS you are using. One single software suite cannot be use on multiple machines that have different operating systems.
Backup
cPanel
cPanel offers three types of backup:
Compressed backup: All information is stored in a compressed format and less disk space is used.
Uncompressed backup: Take more disk space but runs faster than compressed and incremental backups.
Incremental backup: Uses hard links to save disk space.
Main Features:
Monthly, weekly and daily backups offered.
Allows scheduling and retention.
The system saves backup files locally to the /backup/directory by default.
Plesk
Plesk offers two types of backup:
Complete backup: All data regardless of the time when the data was last updated are included.
Incremental backup: Contains only data that has changed since previous backup.
Main Features:
Backups are schedulable.
Allows you to back up the entire server
Backing up individual user accounts/subscriptions is possible.
Secure sensitive data in your backups with password protection.
Price
Both have different price plans according to the services you choose.
cPanel
Three options are available. Payment can be made on a monthly basis or yearly basis.
Main Features:
More than 30% Special Partner Discount.
More discounts if you opt for Annual Plans.
Plesk
Three different plans for VPS and Dedicated Servers.
Main Features:
If you manage more than 20 servers, you can apply for their partner program.
More discounts if you opt for Annual Plans.
Final Thoughts
Overall, both of the control panels allow you to take full advantage of your web server and its capabilities and do so in an easy to understand way. Both also have dedicated community and user bases built around them. This way you will always be able to find some helping hands when you need them.