How To Report Not-Spam in Spam Expert
This guideline is prepared for users who subscribe to SPAM Expert (Advanced Incoming SPAM Protection) service and wish to report for spam 
1. Enter SPAM Expert dashboard via client area. If the user is not familiar with this then may refer to the below guideline:
(How To Enter SPAM Expert Dashboard)
2. Select 'Report not Spam' at Dashboard under Incoming.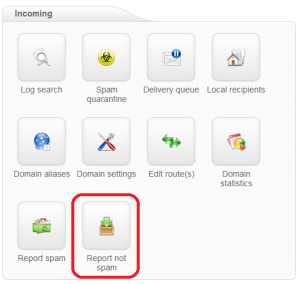 3. It is a 'drag and drops' style feature, user can report the not-Spam email to the system by drag and drop the email into the "Report not Spam" area. Note that only emails accept that have process by the cluster user is reporting to. Currently, only the .eml format is support.