How To Save Attachment on Horde Sent Item
By default, Horde Webmail do not save attachments in Sent email. If you would like to save all the attachment in Sent email, please update your setting with below steps: 
1) Login to your Horde Web mail.
2) Find Preference > Mail.

3) Click "Sent Mail".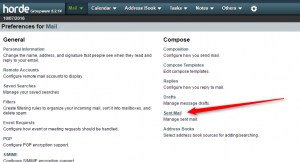 4) Change "Do not save attachments" to "Save attachments".