What is Inode
An inode is a data structure used to store all the information about the files on your hosting account, which include emails, files, folders and everything you upload, create or store on the server.
The number of inodes indicates the number of files and folders you have. For example, shared and reseller servers only allow 150,000 files per cPanel account. This number is the "Soft Limit", i.e. you will still be able to upload files once the limit is reached.
As for a hosting account, the limit is currently 250,000.  Although exceeding the limit is in violation of our Terms of Service and can result in possible suspension, shared hosting account holders should not be too worried as most shared hosting accounts inode usage is still way below the limit.
VPS accounts are limited to 1,000,000 inodes. In other words, you will be unable to upload files to your account once the threshold is reached. Dedicated servers however, have no inode limitation. Its total inode usage depends on the file system of the server.
How can I reduce my Inode usage 
To reduce the inodecounts, you only need to delete the files or emails you no longer need. Alternatively, you could also download the emails to your local system.
Where can I check my Inode usage
You may check your inode usage in your cPanel, below is the steps :
1) Login to cPanel with the URL as domainname.com/cpanel
2) Proceed to Home –> Stats and –> File Usage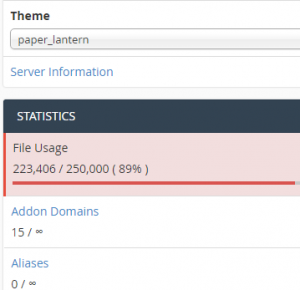 3) You are therefore able to view the total usage of your Inodes.
Alternatively you may contact our support team to check on your Inode usage.
Lastly, TOS Inode violations also include (however not limited to) continuously publishing and deleting large number of files (i.e. 10,000+) without pre-approval.