Running a Virtual Machine from a Backup (Instant Restore)
You can run a virtual machine directly from a backup at the disk-level that has an operating system in it. This process, also known as instant recovery, allows you to in seconds pull up a virtual server. The virtual disks are imitate directly from the backup and often do not occupy data store (storage) space. It only needs storage space to hold changes to the virtual disks.
This temporary virtual machine is require to run for up to three days. Instead, you can either uninstall it entirely or convert it to a standard virtual machine (finalize) without downtime.
As long as the temporary virtual machine exists. The retention rules cannot be apply to the backup being use by that machine. Backups of the original machine can continue to run.
Use this when you plan to
Put in a backup of a fail computer online instantly.
Run the computer from the backup, and ensure proper functioning of the guest OS and applications.
 Accessing application data 
Use the application's native management tools to access and extract the data required while the machine is running.
– At least one VMware or Hyper-V Agent must be enroll in the Backup Program.
– The backup may be save in a network folder or in a local machine folder. Where VMware Agent or Hyper-V Agent is activate. If you select a network folder from that machine it must be accessible. You can also run a virtual machine from a backup contain in the cloud storage. But it works slower as this operation requires intense random read from the backup.
– The backup must contain a whole machine or all the volumes needed to start the operating system.
– Backups can be use on both physical and virtual devices. Unable to use Virtuozzo container backups.
Steps To Run a VM from Backup
1. Do one of the following:
      Select a backed-up machine, click Recovery, and then select a recovery point.
     Select a recovery point on the Backups tab.
2. Click Run as VM.
The software automatically selects the host and other required parameters.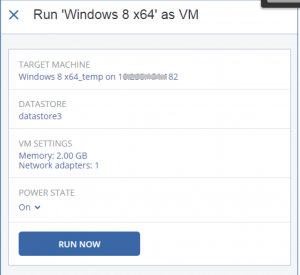 3. [Optional] Click Target machine, then change the type of virtual machine (ESXi or Hyper-V), host, or virtual machine name.
4. [Optional] Click Datastore for ESXi or Path for Hyper-V, and then pick the datastore for the virtual machine.
So that , it will changes to the virtual disks build up while the machine runs. Ensure you have enough free space in the targeted datastore.
5. [Optional] Сlick VM settings to adjust the memory capacity of the virtual machine and its network connections.
6. [Optional] Pick the VM power state (On/Off).
7. Click Run now.
The computer must appear with one of the icons below in the web interface

or

The virtual machines cannot be pick for backup.